Archives by date
You are browsing the site archives by date.
May 20, 2020
As mentioned in our April 2020 FPP Update newsletter, the following are Questions and Answers for UBC Faculty Pension Plan members. We would like to thank the members who participated and submitted questions. I've read that the stock market dropped significantly in the first quarter of 2020. I worry about my investments. How can I protect my […]

May 11, 2020
Read about the Plan's highlights, membership and financial statistics, and investment information.
May 5, 2020
The first quarter of 2020 started on a positive note with easing of trade tensions between the United States and China and geopolitical tensions between U.S. and Iran, but ultimately will be remembered for generations for the COVID-19 pandemic, the economic impact of government responses globally, and the record speed in which it negatively impacted […]
April 7, 2020
The April 2020 issue of the UBC Faculty Pension Plan Update newsletter is now available online. In this issue: Message from the UBC Faculty Pension Plan Board regarding the coronavirus pandemic Pension Forum cancelled 2019 Annual Report The UBC FPP Fossil Fuel Free Equity and Bond Fund is now available New Executive Director, Investments – Kamila Giesbrecht […]
April 7, 2020
[Originally published on April 1, 2020] As the coronavirus pandemic continues to unfold and impact every aspect of our lives, the UBC Faculty Pension Plan (FPP) Board of Trustees would like to assure you that we are monitoring the crisis closely and have taken all the necessary steps to ensure the continuity of services that […]
April 7, 2020
Due to the current uncertainty around the coronavirus pandemic and in keeping with the recommended physical distancing guidelines, we have decided to cancel the Pension Forum this year. At this time, the university has also cancelled all on-campus and off-campus events (and their room bookings) until May 30, 2020, regardless of size. Although the event […]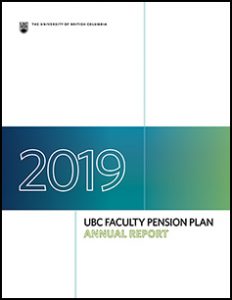 April 7, 2020
The UBC Faculty Pension Plan's annual report is now available online. The report includes plan highlights, membership and financial statistics, fund and investment managers' rates of return, and an investment commentary. The Plan's audited Financial statements as at December 31, 2019 are also available online. View the 2019 UBC FPP Annual Report
April 7, 2020
In the beginning of March, we notified members that the UBC Faculty Pension Plan has enhanced its investment options with the addition of a UBC FPP Fossil Fuel Free Equity and Bond Fund option. The option became available to members on April 1, 2020. The Plan's seven investment options offer a variety of asset classes […]
April 7, 2020
We are pleased to welcome Kamila Giesbrecht as the new Executive Director, Investments for the UBC Faculty Pension Plan (FPP). As mentioned in our last newsletter, Mike Leslie retired in January 2020 and Kamila was hired as his replacement. Prior to joining the UBC Pension Administration Office, Kamila was at George & Bell Consulting where […]
March 30, 2020
We are pleased to announce that due to sufficient interest from members, the UBC FPP Fossil Fuel Equity and Bond Fund will be available online at mysunlife.ca/ubcfpp beginning on April 1, 2020 at 5 a.m. PT.  Starting April 1, members can make investment allocations as well as allocate ongoing contributions to the fund through the […]