Archives by date
You are browsing the site archives by date.
June 28, 2022
The June 2022 issue of the UBC Faculty Pension Plan Update newsletter is now available online. In this issue: UBC FPP Balanced and Bond Fund Changes Underway Evaluation of Investment Options and Managers in the UBC FPP Market Commentary Q1/2022 Upcoming Retirement Income Options Seminars Retirement Income Options within the FPP Staff Announcement: Executive Director, Pensions […]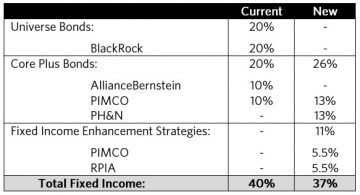 June 28, 2022
As reported in the last FPP Update newsletter and in the Plan's 2021 Annual Report, changes are being made to the strategic asset mix for the UBC FPP Balanced Fund to increase real assets (i.e. real estate and infrastructure). The new asset mix provides a slight reduction in the overall risk level while increasing the […]
June 28, 2022
The UBC Faculty Pension Plan (FPP) Board of Trustees regularly monitors and oversees the Plan's seven investment options. Part of this oversight includes conducting reviews and making changes to the investment options when appropriate. Learn how the Trustees review investment strategies and managers in the new investment education article, Evaluation of Investment Options and Managers […]
June 28, 2022
As we enter the third year of the pandemic and with recent world events, the global markets continue to be affected. Read the Market Commentary for a summary of how the investment markets have responded.
June 28, 2022
Thinking of retirement? Learn about the FPP's retirement income options by attending one of our next online retirement seminars.
June 28, 2022
One of the unique features of the UBC Faculty Pension Plan (FPP) is the flexibility to structure your retirement income and tailor it to your needs. You have the option of leaving your funds in the FPP at retirement and accessing the same investment funds that you did as an active member. You can use […]
June 28, 2022
Orla Cousineau, Executive Director, Pensions will retire in August 2022. Orla joined the UBC Pension Administration Office in 2015 and during her time with the UBC FPP has made many contributions. Orla led all activities related to the administrative operations of the Plan and supported the leadership team of the UBC Pension Administration Office. She […]