Archives by date
You are browsing the site archives by date.
April 20, 2023
The following market commentary is courtesy of the Plan's Canadian Equity investment manager, Connor, Clark & Lunn Investment Management. The first quarter of 2023 was a whirlwind for global financial markets. There was positive market sentiment early on that was largely driven by strong economic data, China's economic reopening and subdued inflation releases. That positive […]

April 19, 2023
Read about the Plan's 2022 highlights, membership and financial statistics, fund performance, and investment updates.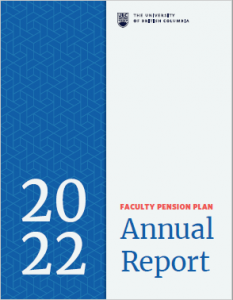 April 19, 2023
The UBC Faculty Pension Plan's 2022 Annual Report is now online. This report includes plan highlights, membership and financial statistics, fund performance and other investment updates. The Plan's audited Financial statements as at December 31, 2022 are also available online. View the 2022 UBC FPP Annual Report